Latest News • 2020-10-09
hotelforum: The Grand Park Hotel Rovinj in Croatia is the winner of the "Hotel Property Award 2020"
hotelforum: The Grand Park Hotel Rovinj in Croatia is the winner of the "Hotel Property Award 2020"
The runners-up are the Lighthouse Hotel & Spa in Büsum and the Hotel Ottilia in Copenhagen
Three finalists from three different European countries
Integration into the overall environment is key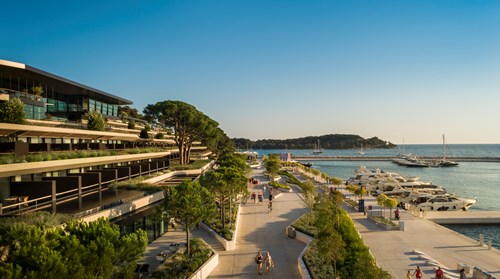 The

Grand Park Hotel Rovinj in Croatia
Munich, 9 October 2020 – This year's "Hotel Property Award 2020" goes to the Grand Park Hotel Rovinj in Croatia. The Award was presented yesterday as part of the hotelforum conference. Andreas Martin, Managing Director of hotelforum management GmbH: "This year's prize-winner has impressed us by successfully combining the clear, modern architectural language of Croatian architects 3LHD from Zagreb with the elegant Italian interior design signature of Piero Lissoni and partners from Milan. The Grand Park Hotel Rovinj is integrated into the surroundings in such a way that guests can enjoy a variety of spectacular views of the bay and of the town of Rovinj. In combination with the intensive greening of the building, this means that the hilly coastline between the waterside and the surrounding pine trees is treated with respect." The Grand Park Hotel Rovinj replaces the former Park Hotel and is situated on a slightly elevated position in a pine grove in Rovinj Bay, with a view of Catarina Island, directly off the coast, and of the picturesque Old Town of Rovinj. There are 209 rooms and suites on the hotel's six floors. The hotel offers two bars and two restaurants on the upper floors, directly adjacent to the hotel lobby. These include the Cap Aureo Signature Restaurant, which specialises in preparing local vegetables, as well as three other gastronomic establishments on the hotel building's ground floor, which opens onto the marina where there are various boutiques. In addition, the two upper floors feature a very spacious 3,800 square metre wellness and spa area accommodating a total of three indoor and outdoor pools overlooking the bay of Rovinj. Access to the hotel by car and on foot is from the land side, via the 5th floor. The hotel has an extensive underground car park, which is built into the coastal cliffs and also has a public section that is accessible from the marina level.
The interdisciplinary 19-member jury pre-selected among the 40 candidate hotels from 12 European countries to choose ten nominees from four European countries. The following three hotels were selected from these nominees for the final round (in alphabetical order):

Grand Park Hotel Rovinj (Rovinj, Croatia)
Hotel Ottilia (Copenhagen, Denmark)
Lighthouse Hotel & Spa (Büsum, Germany)

Jan-Oliver Meding, Managing Partner of MPP and spokesperson of the hotelforum jury: "All three finalists are characterised by a high degree of empathy for integration into the overall environment of the respective hotels. Hotel developments should ideally bring new life and momentum to districts and neighbourhoods. They will not be remembered as isolated solitary objects, neither in the urban environment nor in the natural surroundings. The developers and operators of all three hotels have done this successfully."
The three hotelforum finalists came from three different European countries for the first time. Martin: "Whether we are talking about holiday hotels on the waterfront or inner-city hotels, Europe is also growing together on a high level of quality in terms of hotel architecture. It is characteristic of the current market situation that two hotels in holiday destinations have been selected as finalists and that a holiday hotel has emerged as the winner of the competition for the second year running."
The Hotel Ottilia in Copenhagen was created in the Carlsberg district as part of the project to repurpose the former Carlsberg brewery. One part of the building dates from 1881, and another building was added in 1969. The 4-star boutique hotel houses 155 rooms and suites and offers an unrestricted view of the Danish capital from the roof terrace, which also has an event area. When converting the ex-brewery's former grain and beer stores into a hotel, the challenge was to retain the original elements of the brewery in the building and to convert them to a new purpose. The result was a contemporary, and in some aspects unexpected design by Danish interior designers Mette Fredskild and Morton Hedegaard which reflects the history and architecture of the building. An original silo was transformed into a work of art incorporating mirrors and water pools, and the former entrance area of the brewery, the historic Dipylon Hall, is now a trendy lounge area of the hotel. Together with the Scandinavian team of architects Arkitema, project developer and operator Brøchner Hotels has successfully applied sustainable district development in order to convert a property that is of historical significance for Copenhagen to a new purpose.
With its 111 rooms, the Lighthouse Hotel & Spa is located directly on the Wattenmeer World Heritage Site, on the North Sea. Building on their constructive cooperation in the past, project developer and operator Heimathafen Management has worked together with the Ladehoff architectural office to incorporate the jagged charm of Büsum harbour in front of the entrance and has created a high-quality hotel with a North Sea character. The building replaces a former spa facility at the Museumshafen and was built directly adjacent to the dyke. Some areas of the hotel are located in the dyke, such as the car park, and the two restaurants looking out over the Wattenmeer on a level with the dyke. The neighbouring former Büsum adventure pool is currently being modernised and, when it reopens, will once more offer direct access to the pool from the new hotel. All public areas are designed to be barrier-free, and the distinctive Northern German charm of the hotel property is characterised by the playful arrangement of buildings which appear to be individual constructions, but which are in fact integrated on the inside to form a single hotel complex. The new hotel considerably enhances the harbour environment, and is located directly next to Büsum lighthouse, which gives the hotel its name. In order not to disturb individual guest rooms with the beacon, the hotel records light sequences and transmits the light signal on from the façade with a precision of seconds.
The Award targeted both hotel developers, owners and operators. Applications to the "Hotel Property Award" were received from hotels which were opened between January 2019 and July 2020.
The jury was looking for a successful interplay between architecture and design, integration into the project environment, sustainability and technical innovations, the originality of the concept, as well as cost-effectiveness.

The winner of the "Hotel Property Award 2020":
Grand Park Hotel Rovinj
Location: Rovinj, Croatia
Owned by: Maistra Hospitality Group
Operated by: Maistra Hospitality Group
Project developer: Maistra Hospitality Group
Architect: 3LHD
Interior design: Lissoni Architettura
Type of operation/category: holiday hotel, full-service, 5 stars
Construction period: 24 months
No. of rooms: 209

Hotel Ottilia
Location: Copenhagen, Denmark
Owned by: Brøchner Hotels
Operated by: Brøchner Hotels
Project developer: Brøchner Hotels
Architect: Arkitema Architects
Interior design: Architect MAA Mette Fredskild & Morten Hedegaard
Type of operation/category: city hotel, full-service, 4 stars
Construction period: 24 months
No. of rooms: 155

Lighthouse Hotel & Spa
Location: Büsum, Germany
Owned by: Sroka Beteiligungs GmbH, Kähler Beteiligungs GmbH, Light B.O.N.E. GmbH
Operated by: Lighthouse Hotel GmbH & Co. KG
Project developer: Heimathafen Management GmbH & Co. KG
Architect: Archtekturbüro Ladehoff GmbH
Interior design: COSMAN-Interior
Type of operation/category: holiday hotel, full-service, no star classification
Construction period: 23 months
No. of rooms: 111

10 nominee hotels in alphabetical order:
Andaz Munich Schwabinger Tor (Munich, Germany)
Grand Park Hotel Rovinj (Rovinj, Croatia)
Hotel Bergamo (Ludwigsburg, Germany)
Hotel Ottilia (Copenhagen, Denmark)
Lighthouse Hotel & Spa (Büsum, Germany)
nhow Amsterdam RAI (Amsterdam, Netherlands)
Pierdrei Hotel HafenCity Hamburg (Hamburg, Germany)
San Canzian Village & Hotel (Buje, Croatia)
The Slaak Rotterdam, a Tribute Portfolio Hotel (Rotterdam, Netherlands)
Yotel Amsterdam (Amsterdam, Netherlands)

Previous winners of the "Hotel Property Award":
Schgaguler Hotel Castelrotto/Kastelruth (2019), QO Amsterdam (2018), Bretterbude Heiligenhafen (2017), Reichshof Hamburg CURIO Collection by Hilton (2016), Hotel Zoo Berlin (2015), Holzhotel Forsthofalm Leogang, Salzburger Land (2014), Radisson Blu Hotel Nantes (2013), Hotel TOPAZZ Vienna (2012), 25hours HafenCity Hamburg (2011), Roomers Frankfurt (2010), Lindner Park-Hotel Hagenbeck (2009), 25hours Frankfurt (2008), Schloss Elmau Luxury Spa & Cultural Hideaway (2007), Hotel Daniel Graz (2006), Colosseo Erlebnishotel Rust (2004), Rocco Forte Hotel Amigo Brussels and Accor Suite Hotel Hamburg (2003), Hilton Köln (2002).
More information about hotelforum:
hotelforum is the European Hotel Development Conference, which for 18 years now has been a regular annual feature accommodating networking and exchanges between experts when it comes to hotel properties. hotelforum continues to offer a highly-qualified communication platform even as a hybrid conference with a live stage in Munich where a limited number of people are able to attend in person, and consists of a varied stage programme, virtual breakout sessions, opportunities for exhibitors, and various networking formats for the hospitality industry. It culminated in the presentation of the Hotel Property Award on Wednesday, 7 October. You will find more information at www.hotelforum.org.

Contact details at hotelforum:
Andreas Martin
Managing Director
hotelforum management GmbH
T +49 (0)30 841 82 138 / -139
M +49 (0)172 8961737
andreas.martin@hotelforum.org
www.hotelforum.org

Your contact for press enquiries:
Martina Rozok
ROZOK GmbH
T +49 (0)30 400 44 68-1
M +49 (0)170 23 55 988
m@rozok.de
www.rozok.de
If you don´t want to receive press releases anymore, please send a short reply to m@rozok.de.
Press release as PDF
See more Latest News items