Latest News • 2021-07-27
Join the Hospitality Gipfel Zurich on 26 & 27 September 2021!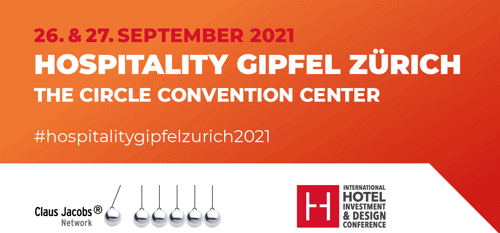 This year, two of the leading hospitality events - the International Hotel Investment & Design Conference (IHIDC) and the CJN Hospitality Gipfel will together host the Hospitality Gipfel Zürich, which will be co-organized by PKF hospitality group as well as CJN Claus Jacobs Network for the first time.
Two days, 12 panels, more than 50 speakers
Innovative hotel scenarios from the DACH region will be presented at the Hospitality Gipfel Zurich, individually featured by developers, investors, consultants, hotel brands, architects and project managers. Industry experts will discuss trends and innovations in the hotel industry on the panels. Among them are representatives of industry players such as Arabella Hospitality, denizen, embassies of good living, Hyatt Hotels, Jelmoli, JPI, Marriott, monoplan, Oaktree, PSP Swiss Property, Radisson, Ruby Hotels, Stayery, Vision Apartments as well as personalities such as Marco Nussbaum.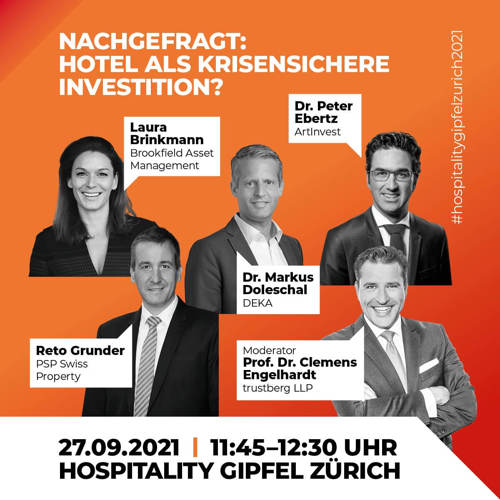 "After such a long break, I can't wait to meet many well-known and new faces from the hospitality industry at this year's Hospitality Gipfel in Zurich," says Tanja Millner, Managing Director IHIDC.

"Our industry is based on encounters and personal exchange - and this is exactly what CJN and the Hospitality Gipfel Zurich stand for," adds Claus Jacobs, CEO and founder Claus Jacobs Network. This is the guiding principle of the conference and thus focuses on reunion, networking, best practice sharing and exchange within the hospitality community.
Where: Hyatt Regency Zurich Airport, The Circle 41-Flughafen CH, 8058 Zurich
When: Sunday 26 September 2021 and Monday 27 September 2021
Please note that the conference language will be German.
Get 30% discount on the ticket price when quoting IHIDC
Ticket price 2000€ plus VAT
Due to the current situation only a limited number of tickets are available!
We certainly look forward to RE-CONNECT, RE-START and RE-MEET!

See more Latest News items