Latest News • 2023-04-17
PKF hospitality group at IHIF
Before the start of IHIF 2023 in Berlin we would like to give you some press information. The stand of PKF hospitality group has the number 43 (stand plan attached). In addition, PKF hospitality group will hold an evening event on Tuesday, May 16 at 7 pm together with JP Hospitality at the PanAm Lounge in Budapester Straße. Participation is by personal invitation only. We cordially invite you to the following discussion:
Short-Term, High Impact Asset Management
Tuesday, May 16, 2:00 p.m.-2:45 p.m.
Room Tiergarten
In the face of rising capital costs and discount rates, we look at the strategies for near-term value creation. What are the projects and strategies that deliver high impact in a short timeframe?
Moderation: Adam Maclennan, Head of UK & Ireland, PKF hospitality group
Panelists:
Claire Camplisson, Goldman Sachs
Anna Cohen, Extendam
Dimitrios Neofitidis, Siggis Capital
Niels Schroeder, Fairmas
Hubert Viriot, YOTEL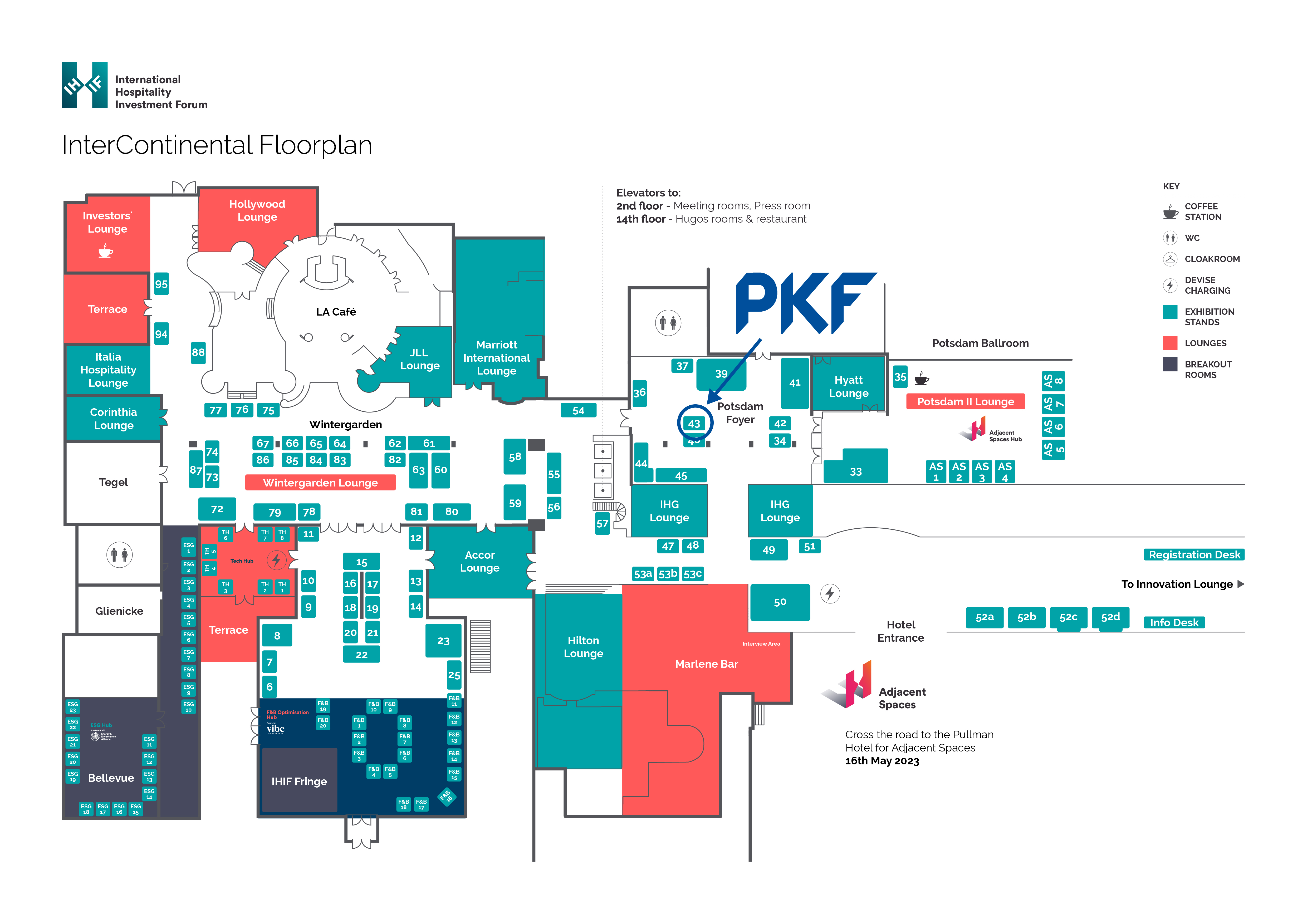 Commenting on the current market situation with regard to IHIF, Robin Wattinger, Head Financing + Investment, PKF hospitality group, says: "While transaction activity has slowed down considerably over the last months with market participants weighing the impact of interest rate increases and a more challenging lending environment, the sentiment for hotel investment remains bullish overall. Hospitality has proven to be the most versatile real estate asset class while also being best suited to respond to inflation by adjusting rates on a short term basis."
At IHIF, the following PKF hospitality group contacts will be available for interviews:
Michael Widmann, Global CEO
Christian Walter, Global CEO
Ulf Templin, Head of Germany
Adam Maclennan, Head of UK & Ireland
Stefan Catic, Head of Operator Search
Robin Wattinger, Head of Asia & Head Financing + Investment
Gabriela Basovska, Consultant
Please contact Martina Rozok for appointment requests.
Berlin, 17 April 2023
---
About PKF hospitality group:
PKF hospitality group is an internationally recognised leader in hospitality and tourism consulting. With a team of 100 consultants in 20 offices (including Kyiv) on all continents and an experience of almost 100 years, PKF hospitality group offers focused consulting services in the environment of the hotel, serviced living, tourism, and leisure investments - including feasibility studies, valuations, operator search, project development, financing and investment consulting, asset management, research & benchmarking as well as strategic consulting.
Media contact:
Martina Rozok
T  +49 30 40044681
M +49 170 2355988
martina.rozok@pkfhospitality.com
www.pkfhospitality.com
See more Latest News items